Landeskogen Peace Center has been hosting enthusiastic young travelers between July and October 2012 as part of its work exchange program. Located in the southernmost part of Norway, people have come to us from all over the world to work in exchange for room and board while also becoming a part an international community. Volunteers have stayed anywhere between one week and a few months; they live and work together, share ideas, culture, and enjoy Norway's natural beauty
. Made possible by online based communities such as Workaway and HelpX, Landeskogen Peace Center has been home to travelers from all over Europe, America, and countries as far reaching as Japan and Australia.
Volunteers are given a private room in the large peace center as well as three meals a day in exchange for five hours of work Monday through Friday. Tasks have included demolition work in the residential houses surrounding the center, painting, gardening, organizing the center's many sheds, sorting donations,  and general laboring.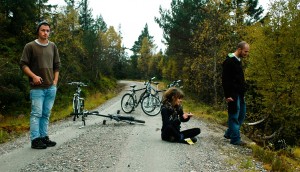 The liberal work schedule allows for plenty of free time and has enabled volunteers to pursue outdoor interests and language learning among other things. The center provides bikes, boats, and fishing equipment as well as a piano, bongo drums, and two guitars for the musically inclined. Other volunteers have taken to using the large café kitchen to experiment with cooking and baking. The grounds include large tipi tents fitting up to ten people and are available for the volunteers to use.
With the tools available at the Landeskogen Peace Center volunteers have had bonfires, costume parties, done handicrafts such as bread making, slacklined, sewed, and a variety of other fun activities. Volunteers are encouraged to pursue creative interests and make the most of the facility's many resources.
Though not Aktive Fredreiser's primary operating language, English is spoken among volunteers with many also speaking their native languages and sometimes even a third language. This allows for a deeper cultural exchange and creates an environment that nurtures a forward-thinking mentality and naturally dispels any prejudices or misconceptions. Volunteers are given an opportunity to see that the obvious differences of race and nationality pale in comparison to similarities in our nature and way of thinking.
"I had a great time. The peace center is beautifully located, and you really get a
chance to interact, learn from, and create friendships with people from all
over the world. I feel lucky to have experienced such a rich cultural exchange."
–Reece, 19, England
"Volunteering at the Landeskogen Peace Centre has been an incredible experience, set in the magnificent natural beautiful of the Norwegian landscape. I have really enjoyed my time spent here, exploring the wildlife, meeting new people from cultures around the globe."
– Richard Green, 27, England
"Landeskogen is a perfect workaway place in the sense that we have the opportunity to do a little bit of everything
. We can do everything from painting to sewing curtains so there's something for everyone and there's also many possibilities for spending your free time.  There are bikes, boats, and other things we can borrow as well as musical instruments.  Overall a great place to spend some time."
– Elsa, 23, Estonia
"It's been great to be out in nature from people from all over the world. I've learned and
done many things that I wouldn't have otherwise. We had a great host and a
great facility with many friendly, creative people. I hope the program will go
on for many years to come."
–Pamela, 23, California, USA
"I hope the world someday becomes more like the Landeskogen Peace Center where everyone can share, work, and live together."
– Ryu, 24, Japan